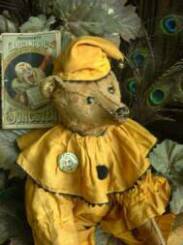 Click On    All Photos

To Enlarge       Them






Old primitive cloth doll we've fondly named Brownie, no relation to the Palmer Cox ones though he does seem very impish. Measuring 11 ½" tall to top of his velvet hat, he has a simply made face from an old cotton beige tan sock/stocking with single threaded bead eyes, similar to the Steiff mini bears & embroidered mouth. His hair seems to be a carpet type fabric with loose loops for his hair or possibly astrakhan which is like a Persian lamb, I cannot tell. I'd estimate around 1920s when made.

He feels fairly stuffed in his head, more rag or cloth stuffed legs & arms of early cotton and I do hear some crunch when feeling his body so something like straw or excelsior inside perhaps. He has sewn on clothing so can't really tell more. His arms appear to be sewn at the shoulder underneath as they do move up and down fairly well .

His original outfit is simple, made of velvet with some fading, some moth bites, pin pricks and worn thru slightly in front creases. He has a separate velvet collar around his neck and sewn on long black socks. He is made more for standing or leaning. He is handstitched in many areas and comes in "as found" condition from many years ago. **His body and face look much tanner than some of my photos show.
Price $85