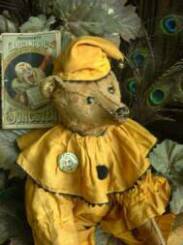 Click On    All Photos

To Enlarge       Them







These are just wonderful for your early antique doll or bear. Very old shoes or slippers made with soft supple leather in a nice deeper shade of brown, almost cinnamon.

In excellent original condition "as found", a few scuffs and slight age related darkening as shown but still really great with original finish. One slipper looks slightly lighter in color. I have not polished nor restored them in any way. They have the original cloth lining.

Shoelace ties with a poufy tassel at each end with detailing stitches on the toe. Moccasin style stitching to the front and no sole to the bottom, they are more rounded underneath than a flat soled shoe. Missing a few stitches along the edge where it connects to the upper portion just below the lacing eyelets. A section which may be a small hand stitch repair added to the same area.

A little hard to measure as they are very pliable and can be shaped as you like due to lack of any firm sole. In length, the toe to heel 4 ¼-1/2", across the bottom at widest part of heel 1 3/4", from the back of heel to the top 2 ¾".


Beautiful Leather Antique Shoes for Display or worn on your Antique Doll or Teddy Bear.
Price $45