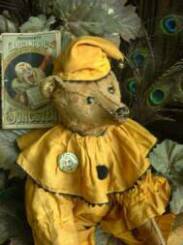 Click

All Photos

  To Enlarge Them





Our Darling Ancient Boy dressed as he was found,  Santa's "Little" Helper with his sweet disposition and smiling face, we can see why he was very Loved! Though lacking some floss, this very old teddy hails from the house of Aetna Toy Company of New York, circa 1906. A tad over 14", we find him quite slumpy, decrepit and extremely adorable.

All pads have been covered with old cloth, his former companion decided it's best to protect his hands and stuffing from falling out. His feet pads are quite shabby as the old fabric has frayed over time, now showing his original cardboard soles.

His legs & arms have gone a bit limp now after many years of play, the stuffing has settled as gravity has it for most old things. Certainly some may have leaked out however this allows him great articulation like a marionette, he can be posed, played with and dressed with ease.


Abundant Charm & mohair loss, this sweet old teddy has managed to retain his original red sweater outfit with belt. The belt has left smudge marks on his sweater which may come off, though we haven't tried to wash it. we enjoy him just the way he is.
on hold