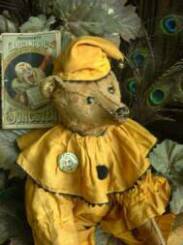 Click On    All Photos

To Enlarge       Them







Awesome little beauty, looking as good as our socialite Marylou on a sunshiny day at the racetrack in July in her antique handmade lace & velvet hat with silk ribbon trim and lovely old skirt. This petite old gal measures not quite 9.5" tall.

Isadorie is early Steiff most likely from 1906, she feels softly stuffed though with some excelsior too. All original with tiny shoe button eyes, perfect floss nose, mouth and 4 claws. Her mohair has a great deal of loss but looks apricot color to me and she has a bit of deafness due to a missing ear.

Worn condition, all pads are original though a repair & ribbon is tied on one of them. Surely she cannot remember why it's there, just reminds her of something! Her early skirt is a nice cranberry calico print on beige with some mouse bites to it. Neck ribbon is original, it is quite fragile, falling apart but looks darling on her and we hate to remove it though doubtful it will last a strong windy day.

An amusing old soul with strong character you won't find every day.
new price $345