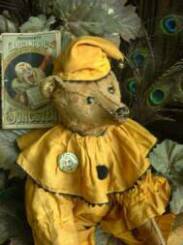 Click On

  All Photos

     To Enlarge   Them




A tasty little morsel measuring 9.5", a good amount of creamy white mohair to our 5 claw Steiff teddy with tiny blank button in his ear and original floss.

Mostly soft stuffed with settling to his kapok and excelsior, so a bit on the skinny side from playwear and his left arm is a little limp. Some wear to him: slight fraying near his left wrist pad, repair to felt pad, small repair of a hole in his chest most likely from his squeaker. His tiny ears have gotten frayed at the top edge.

He has lovely old bib overalls and is just a little darling we hate to see leave the nest.
on Hold