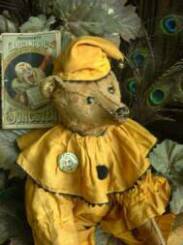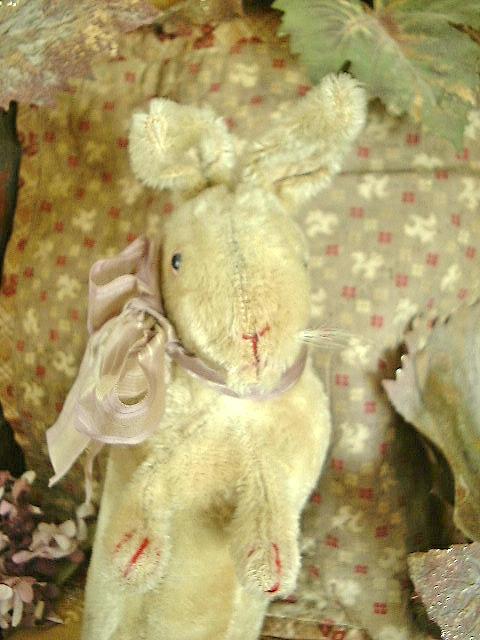 Click On

  All Photos

     To Enlarge   Them



A WONDERFUL early unjointed Mohair Rabbit Toy, All Original in Excellent, clean condition from about 1914-20s. Great for Easter and any time of the year, this sweet old boy is such an unusual piece made with a long spring inside his body. He is fairly tall measuring around 10 ½" to top of head and 12 ½" to eartips.

He has original glass eyes of orangey brown back painted, nice looking red floss on nose, mouth and claws, horsehair whiskers though only one side, cream color mohair with only a little bit of wear. His ears, tail, paws & feet are not stuffed much at all with excelsior, just his head and upper body near arms. He has only slight wear, a little missing mohair here and there, a fray on the inner most part of tail and a small tear across the bottom edge of his body which shows the inner spring mechanism.

Not your average Bunny!! When you gently press down on his head, his long body collapses & shortens, once pressure of your hand is released, he is restored to his natural height. This type of early toy has been seen from a few companies. The British company ISA (Isaacs and Co) which made many dogs with springs in their legs, which was later purchased by Chad. An unknown American company had similar teddys which were known as Long Voice Toy bears, emitting a squeal after they were pressed.

About this great old boy, what I admire best and find quite endearing is his slight lean to his left side (your right side as viewing my photos) and his lovely condition for a played with toy! He is sweet and I've not seen another in my years collecting.
New Price $275 ...see more photos below