What can we say about this delicious Steiff  Morsel but this: when he was made they put an extra touch of Love in him! He has no button in ear but his condition exceeds our expectations in a plaything well over a hundred years old.

Snickers got his name from his exceptional face which shows a slight turn to his nose making him seem like a little "smarty pants". With that gorgeous smirky smile and handsome good looks, this playful spirited boy was likely from around 1908. He measures 10 1/2". 

In Wonderful All Original Condition, fluffy and full mohair with slight loss, he retains about 80-85% of his mohair. Nice golden mohair with it's original patina though a light bath may improve, it's hard to say and we've grown to love him the way he is which is not very dirty at all.

Perfect floss nose, mouth and claws. His original stuffing is very full except for a slight bend midway up his arms, where the stuffing had settled a little bit. Furry hands, furry feet. No repairing at all, felt pads in excellent condition with only a slight mark.

A Fabulous & Furry Boy, don't let him get away!
I've found a great new home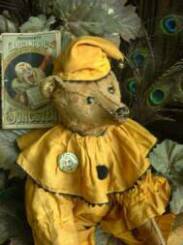 Click 

All Photos

  To Enlarge  Them