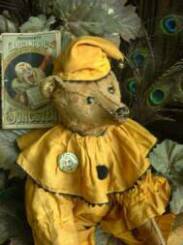 Click On

  All Photos

     To Enlarge   Them



A Wonderful Amusing Teddy of 5" tall, in extremely nice condition with slight loss to her golden mohair, made by the German company Schuco during the 1920s when a lot of unusual novelty items and colorful toys were made by many toy manufacturers.

Excellent example with original features nose floss, black eyes and mohair covering her jointed metal body. Lifting off her head, you can see she has her original glass vial for perfume, with removable long dabber. Many times the dabber is broken or missing though it helps to hold the head on. Joints move well to pose her and her original lovely pink silk bow has a delicate pattern to it, if looking closely.

She has the cutest face and is sweet!
New Price $295   see photos below