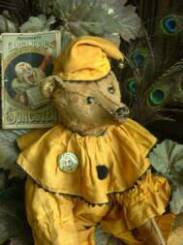 Tucked away in a dresser drawer for God only knows how many years, this sweet bundle of Steiff  heritage emerges, a bit on the shy side but a darling early gal most likely from the blank button era c.1905 due to her soft stuffing felt inside & light weight.

Dressed in her folky brown checked cotton homemade dress with its many, many mends, repairings, different sized sleeves and yet holds together fairly well though the dress only could be considered fragile.

Cinna remains in great condition, quite sturdy for her years of age despite her lack of cinnamon fur which once covered her petite deep brown gorgeous little body. She's stayed out of the sun so she hardly has any fading to her. She is in All Original Condition except for her pads, redone nicely in matching felts. All her joints move well to pose her, shoe button eyes and her right ear is a little bit chewn from a previous owner. Her floss nose and claws looks great though missing on her mouth and she measures a wee bit 9 ½" tall.
I've found a great new home!

Click

  All Photos

  To Enlarge Them