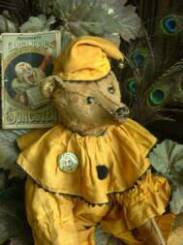 Click On    All Photos

To Enlarge       Them





      An early American teddy with his large boot button eyes giving him the sweetest endearing face. He looks to be made by Ideal with many characteristics of the brand and measures about 17" tall.


General wear after all his years of love & playfulness, his pads have some great darning repairs to them and some replaced felt areas, with no other repairing on this old boy. His golden blonde mohair has thinned out quite a bit but still retains maybe 60%. Some original claws still remain, and his embroidered floss nose & mouth look original to me, if not they were at least done a very long time ago.

He has nice long legs and a chubby body filled with excelsior. His joints move easily and his arms curve at the end giving a warm welcoming hug to all his friends. He'll bring to his new home his triangle hat, ribbon and unusual early flag pin.
reduced $325