* PLEASE NOTE *


see Antique Bears for other dolls I offer for sale from my collection.
Click on the photos to enlarge or see more info


Here's a Lovely earlier dress in what I believe to be a Cotton Voile or Batiste. It's very sturdy in a soft pale blue floral pattern with leaves and swirl design to it on a cream/white background.

It measures about 10 ½ " across waist, 23" from the shoulder to hem. The hem was taken up 8 ½" of fabric basted to shorten it. Shoulder to shoulder is roughly 10 ½-11", this seems like an off the shoulder style with a slightly dropped waist for a larger doll or child. Sleeves are shirred at the top for fullness and open at the bottom: 5" long, 7" at the edge. Lovely piping around the shoulder seam, neckline and waistline.

It has not been laundered, as this is always a personal opinion with antique fabrics, often risky. It's not terribly grubby, smells fresh and feels like the original finish to it. The back fasteners are early flat hook and eyes. One hook is missing from the lower waist, but the eye remains.

Originally, there may have been two gauze pockets to the skirt, only one remains complete. The other is no longer there, a slit from it along with another slit similar in length closeby hidden by the fullness of folds in the shirred skirt. Maybe this was taken apart to expand or repair the pocket, not really sure. Easily basted shut with very little effort and should not show. I see only one tiny area about the size of a  fingertip near the waistline where the fabric seems pulled away with slight fraying, this is hardly noticeable.

This would look stunning on an older bear or in a collection of  doll or vintage child's clothing. I don't see where it has faded much and seems well taken care of. I have looked it over carefully and it seems to be mostly hand sewed or entirely handdone, I cannot tell as the stitches are really tiny for me to view.  $125   Now $ 45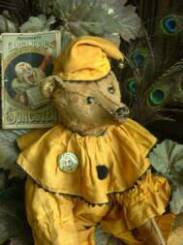 Click On

  All Photos

     To Enlarge    Them

Bare Threads .... Worn Cloth Dolls & Clothes for Teds