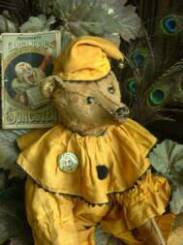 Click

All Photos

  To Enlarge Them


Dear old Mavis, healthy and wholesome as an ox, can count her blessings she's not torn apart from the hands of a small child. She's pretty early, made of dark brown wool "burlap" fabric similar to the bears on all fours or pull toys on wheels as well as the early jointed elephant and donkeys that Steiff made. Often this fabric didn't wear very well, but in Mavis' case, she lives to see many days ahead. She is not Steiff but most likely American made.


She's in nice condition without splits to her old woven fabric. She has some repairs to her neck as he head has been sewn down and does not turn. Chubby body with a good size hump in back, felted flannel to her feet and hands looks great for her age and she is firmly stuffed with excelsior. Floss mouth has broken away though she remains quite cheerful, some redone stitches to the top of her seams arms and leg and on top of her head I think she once had a hat sewn down which she has lost.

She caught my attention in the beginning with her unusual look, her shoe button eyes dangle slightly and are sewn in red thread almost looks like "tears" as if she's been crying. Maybe happy tears, we've loved you so much and so long.


A sturdy old gal built to last, ready for a sunny day to feel warm & toasty. Mavis measures 12" tall.
reduced $165