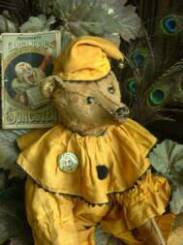 Click

  All Photos

  To Enlarge

    Them


Our primitive old farmhouse doll, in original condition is made from what was on hand at the time, straw stuffed or possibly with broom twigs. She's entirely handmade, hand sewn including her 3 piece outfit.  Great details to her simple expressive face, embroidered by a naïve but somewhat skilled hand, who certainly brought out her character charm. 


Her cotton body and joints have wonderful early stitching that holds them together. She can sit, stand, hold things on her lap and dress easily because she is a little loose and slumpy where she's joined and she measures roughly 12 ½".  Her original outfit is simple, a floral print dress over a sleeveless slip and a kerchief or belt tied at her waist, all of which are hand sewn with needle and thread.

She has age old patina and honest wear to her, no odors, some small spots, some loosely stitched areas with threads showing and though not perfectly made she is a great early antique doll. I would guess her making was around late 1800s to early 1900s but I am not an expert. I do know that she is not an artist newly made doll.
on sale $145 ... see more photos below