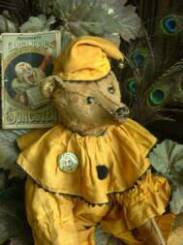 Click

All Photos

  To Enlarge Them


An adorable early teddy from the days of the 1920s when colored bears were plentiful and Exciting! She is an American stick bear or possibly from the German maker Petz, who made mohair bears in colors, designed with ears set into their head.

This sweet little girl is all original and darling in a fabulous shade of orchid you can only imagine how beautiful she once was. Original glass eyes, measuring 10 ½" top of head. Quite bald with only traces of her short pale lavender mohair showing on her skin and in the ears. Her belly sticks out from the non-working squeaker inside. She is pin jointed and all her joints move well including her head.

Her outfit is great in a white with teal dress with a faux white slip underneath edged in pink rick rack. Completing her playful appearance is a great early pin with doggie charm, looks like Nipper the RCA dog.

   I've found a great new home!