Baja, as he's fondly known here, rests on eccentric style wooden wheels so he can hop about when he is pulled along in back of his young owner as they play. This type of wheel was used with several early Steiff animals and it gave them more lifelike movement. His pull cord is pretty old and seems original, wheels are marked Steiff.


Made of lamb's wool plush with felt face and legs, this jaunty baby lamb is adorable and petite. He has original patina, his plush has flattened and his once white coat has darkened with age to a light tan. ircles of felt under his black teeny shoe button eyes and if you look close you can still see his tiny buds of felt ears. He also has airbrushed hooves on all four legs and the eccentric works fairly well though possibly a little bit askew as he slides along the axle. His tail is very nice and plump.

Baja measures by himself 6" to head and 7" long, with his wheel base measures 9" long wheel to wheel, 6 ¾" top of head and about 5" wide across the wheels. Made during the period 1914-1927.
new price $285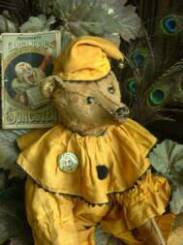 Click 

All Photos

  To Enlarge

Them