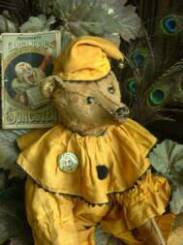 Click On

  All Photos

     To Enlarge   Them


  Wonderful Early German squirrel excelsior stuffed, most likely made by Strunz, similar in design to Steiff's jointed squirrel. He has shoe button eyes, possibly of black glass and is 5-way jointed at arms, legs and head. He's firmly filled excelsior stuffing, his tail is very bushy, it is not jointed, sewn against his back and filled with a little excelsior as well. Measuring 8 ½" sitting and about 10" to top of ears as he stands on his long feet.

Made around 1920's of pale reddish tan mohair with almost a cinnamon color tail with cream mohair down his front and longer mohair on tail. He has his original patina, a little bit of mohair missing & a small hole on his back just under his tail where it is tacked down, otherwise in excellent shape for his age and still with his original floss on nose, mouth and claws.

Our chunky little forager has a great expressive face and is in really nice original condition. These early squirrels are hard to come across in any condition.
newly reduced $535