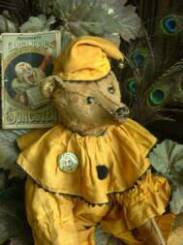 Click On

  All Photos

     To Enlarge   Them


Truly Kissed by the Sun with his brilliant abundance of marigold color mohair, this wonderful old teddy with his perpetual smile was made by the German maker Josef Pitrmann during the 20s-30s.

In Wonderful Condition with his luxurious long fur, large amber glass eyes and floss on nose, mouth and claws. His nose floss has worn a bit, his award winning smile and many of his claws remain. His original felt pads have a repair to one foot and one hand, the other has a hole. His excelsior stuffing has settled in the top of his arms and legs, which allows for easier dressing. His fur is plentiful and its color has only slight fading to his face and a portion of arms, legs. Inside his belly is a heavy non-working growler which makes a clunking sound when tipped forward and back again. A hefty boy who measures 19" standing and 14" seated.

Josef has a fabulous welcoming face and this delightful furry treat will brighten up your world as it does mine. Comes in his clown hat & ruff, see below.
price...... $685