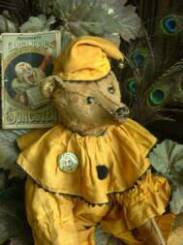 Click On

  All Photos

     To Enlarge   Them



Here's a sweetheart waiting for the right home, she measures a wee bit of 9.5" not weighing much at all. She's very old guessing from 1908. She's not the prettiest but she's got a kind face. We're not entirely sure if she's from Steiff or possibly she could be Strunz, they both have many similarities.

A bit dusty and hasn't been bathed I think she will show some apricot hues to her sparse sprigs of blonde mohair. She is not as pale as my later evening photos show, almost has a ruddy complexion on her backside. Her pads and floss are original as are her tiny shoe button eyes. Her floss for nose has a bit missing and her mouth is all there. She has 4 claws on her paws though some have broken. Her one hand could use a patch but it's not leaking at all. Her chest is a bit sunken in as her stuffing has settled.

She comes with her antique dress of mint green striping, peter pan color and nice gathered & trimmed cuffs. We've given her a fun pin to help with her bird watching hobby.
I've found a great new home  see more pics blow