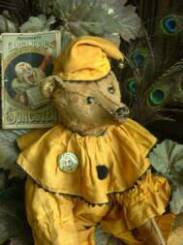 Click On

  All Photos

     To Enlarge   Them



All the Charm and so much patina remains within this greatly Loved Toy Fox. Most likely from 1920s and made by Schuco of Germany, this wonderfully handsome guy will keep you smiling.

He's All Original in as found condition with original floss & original "bedroom" eyes. We find him loveable and a favorite of ours. He measures about 5 ¼" tall to head not including ears, 5" long from butt to nose sticking out, then add about 3" for the moveable tail.

Yes-no tail mechanism works well, he shakes his heads No, probably his age old scarf prevents the positive reply because it is tied under his neck.

An Old Worn Darling, completely forgotten in time with rust staining, dust, heavy dark patina, and Old as Dirt! We haven't cleaned him at all, he is very dark but sweet and he has no odors to him.
reduced $165