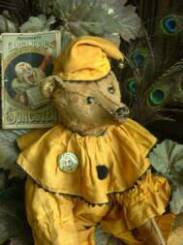 Click On

  All Photos

     To Enlarge    Them


Beauty is in the eyes of the bear holder…Go for the Gold!!

This guy is pretty sweet and we love him dearly. He measures roughly 14" tall if he stood up straight. With original patina to him and Genuine button eyes which were replaced a long time ago to help him see. He wears them well! Floss on nose and mouth look excellent, 3 claw stitches to paws though some have worn away. Original felt on paw pads, one foot pad has a hole. He's most likely of British origin from the 30s.

Lovely thick honey brown mohair with some matting and small areas of loss mostly on his forehead, extremely slumpy, almost baggy deflated condition, he LOVES to slouch and is very limber. He may not be an Olympic gold medalist but he certainly excels in contortion. Perhaps he could use a little bit of stuffing as his arms and tummy seem barely half full but we enjoy him just the way he is, for he can be plopped down anywhere and is a fun filled old boy. He has as many wrinkles as the best Shar-Pei!

He displays well and will come with his early gold medal with original worn ribbon attachment.
I've found a great new home! see more photos below