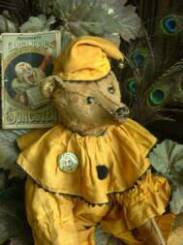 Click On

  All Photos

     To Enlarge    Them


Proud of his American heritage, this 5 claw early boy has a lot of smiling appeal and lovely gorgeous silky soft clean fur.

An adorable face with his endearing shoe button eyes and worn floss nose and claws. The tip of his nose shows  wear missing a couple strands of floss. Gotta love his slight "five o'clock shadow" from the hugs & kisses he's had in the past. Standing at 14" tall, his arms reach almost to his knees but he prefers to sit as he is slumpy, with long legs and chunky feet.

A non-working squeaker takes up much of his belly. Lightweight, mostly stuffed with lots of kapok which in his belly has settled quite a bit, making him very slumpy. He has not lost much of his fluffy coat of bright gold mohair. His felt pads are original,  though both hand pads had some damage and now mostly fixed. His 5 claws remain on one hand, some of his claws are missing elsewhere.


This sweet irresistible guy is sure to please, a steadfast friend forever, comes with his antique rhinestone pin & homemade neck ruff.
on Hold