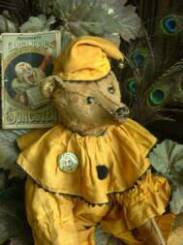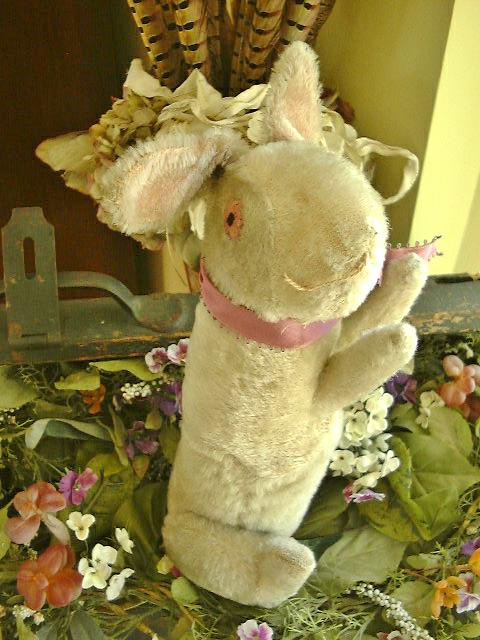 Click On

All Photos

    To Enlarge    Them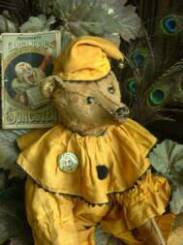 Fence Your Garden &





Hide your Carrots!!

A nice pair of lovely & "loved" mohair stuffed rabbit dolls in very nice condition. These sibling Twins measure roughly 14" to top of head seated on their butts, standing feet flat about 16" not including their ears. One is a blue grey with cream, the other is a beige tan with cream, and were originally jointed at the legs, head and ears. Both made in the style of the Hollander Steiff Rabbit but these are British made most likely Chad made around 1920s or 30s.

Both Rabbits are missing their original glass eyes and have wonderful matching hand embroidered eyes sewn in their place. They look really great, have original patina to them not terribly grubby, some repairs to them, missing mohair and spots of wear and could benefit from a light bubble bath to fluff them up. Both stand and sit very well, their "faux" tail at the base of their butt helps them balance.

Bonnie Bunny is slightly more loved with her beigey tan or pale gray on her lower half, ears & part of face, cream mohair on chest, down front of face and on her hands. She's wearing the pink/blue bow. She has pink inside ears, original floss to nose & mouth though floss is somewhat loose. Her head and leg joints move well, her ears have been sewn down but you can feel the joint inside and one ear is shorter and her arms are also stitched down in place, probably a small tear at the joint area. She appears to be saying, "Yippee"! I see a small hole at her chin where most likely her mohair seam has opened up. All repairs have been done very well in my opinion and neither of these "issues" is that difficult to fix to make right.

Clyde Bunny has his lower body half, ears and cheeks in gray & cream mohair down chest, front of face and arms, loved but in better shape though his face is slightly more loved with some discoloring to muzzle and no floss on his nose or mouth. His front paw does not move, it is stitched down, almost like he's saying "Oh, My"! His blue bow is tied but is fraying a great deal where tied, probably made of silk. His body feels stuffed more than the body of his sister.  His eyes are embroidered in pale faded pink?

In all, a really wonderful pair of mohair Easter Rabbits in original "as found" condition. We often forget these were toys, playthings of joy probably tossed around and enjoyed for life. Hard to find one but a pair is extra special.
reduced $350    ask for more photos I have alot!!







see some below